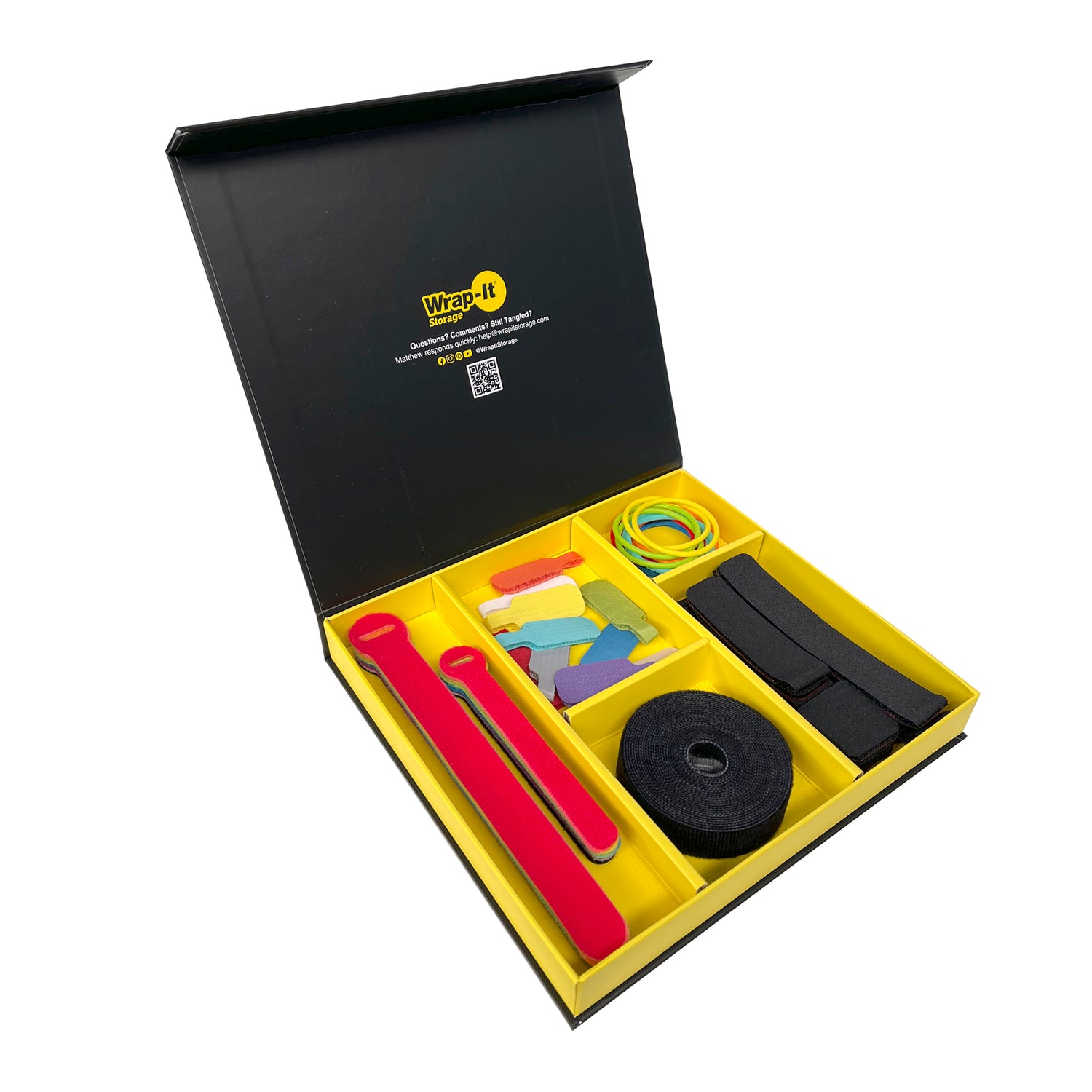 Prescription strength cord organization, now available without a visit to the cable doc.
Yes, we know cable organizer doctors aren't a real thing, but they should be. Untangle your life with our curated collection of cable ties, labels, and more!

⭐️⭐️⭐️⭐️⭐️
"It's a cable management treasure trove!"
This cable management kit by Wrap-It Storage is good for most household chores, and it sure beats the heck out of using twist ties, tape, cinch ties, or worse, the wrap and knot technique.
Family Business

Seriously, give us a call. Michael (one of the twins) will answer. Based out of St. Paul, MN.

Free Returns

After spending hard earned money, we want you to be happy with your purchase.
The RX Kit will help you:
Bundle Cords Behind the TV or Computer

Manage Kitchen Appliance Cords

...Even Tidy Office and Art Supplies!
Each Cable Management RX Kit Includes:
• (10) Cable Labels
• (20) Self-Gripping Cable Ties
• (1) Self-Gripping Perforated Roll
• (12) Cable Clams
• (16) Silicone Bands
⭐️⭐️⭐️⭐️⭐️
"Wonderful selection of cord organizers (Love the box, too)"
It's amazing how many cords I have in and around my home that needed organizing. This box of colorful organizers is just what the IT doctor had in mind for untangling and streamlining all of my electronic device cords. My counter-top kitchen appliances have also benefited from the contents of this box. I have placed several orders with Wrap-It Storage and am pleased with every one of the items ordered.